Sunday, July 8, 2012
Well, it's been a while. I'm a bad blog owner, I know. But I want to share some things, beginning with my prom dress!

I took inspiration from early 1900's styles, mostly because of the 1912/2012 thing going on this year and all the fashion interwebs going on about the Titanic.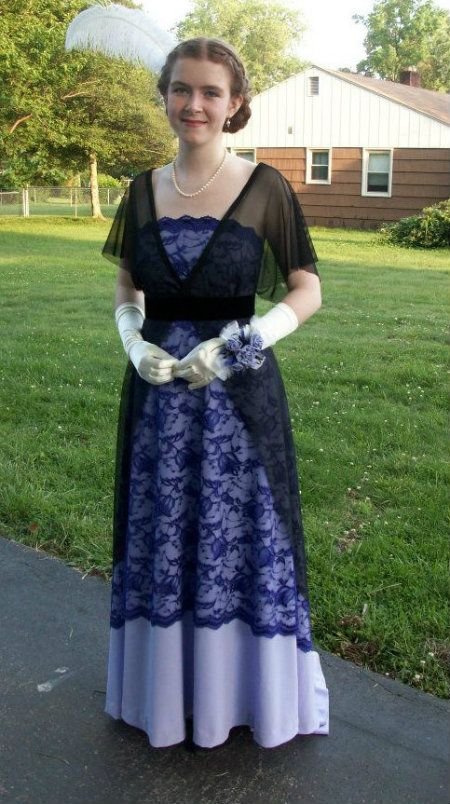 This dress was fabulous. I patterned the bodice from the laurel dress in Patterns of Fashion 2. The skirt is half an oval and then a wedge. The lavender fabric was this weird polyester stuff that was matte, was heavy but flowed like it was light, and barely frayed at all. I have no idea what it was, but it's great.The bodice is boned with leftover cable ties from my 18th century stays!
The lace overdress I draped on, it's pretty simple. And the black net, same thing. It didn't come out exactly as planned but I like it. The velvet belt is an heirloom! And I have a wonderful train!
I hemmed all of that by hand.
I also made the blue dress in the following pictures. It was a commission from the lovely lady wearing it. It was based on a picture of a dress she found online but couldn't buy. The bodice is from a commercial pattern, and I drafted the rest. She's wearing a large floofy petticoat underneath.
We're all sweaty in this picture, it was taken after three hours of dancing! And she has the tulle overlay gathered up because it was pretty long.
And here she is with her boyfriend. I didn't make his vest.
So prom was a lot of fun! I went with like 8 people to this hibachi restaurant beforehand.
Hopefully I can get a post about my graduation dress up before too long!
-Madame Taylor